Description

Do you accept other payment methods?

How to make big order

Color Chart
This DIY arcade machine kits include:
2 pcs joystick which can change to 4 ways and 8 ways.

2 pcs player push button and 2 pcs microswitch for push button

16 pcs push button which comes with small build-in microswitch.

1 pcs 2 player USB to Jamma arcade controller include USB connect wire.

Extra note:
The USB to Jamma board supports 2 joysticks and 22 buttons.12 buttons for player 1 and 10 buttons for player 2.
USB 'B' jack for connecting any standard USB cable

Works on PC, Linux and MAC,PS3(but no PS button)

Compatible with 98SE/XP/2000/Vista/Windows 7/Linux/Mac/PS3 ,no sofeware required,insert then can use.

Support 2 players

good for fighter games.


The Diagram of Arcade Controller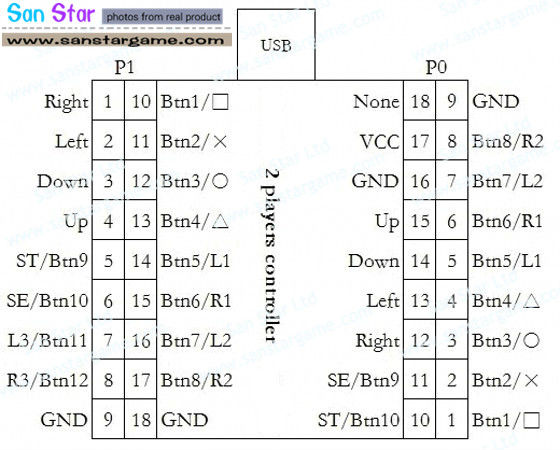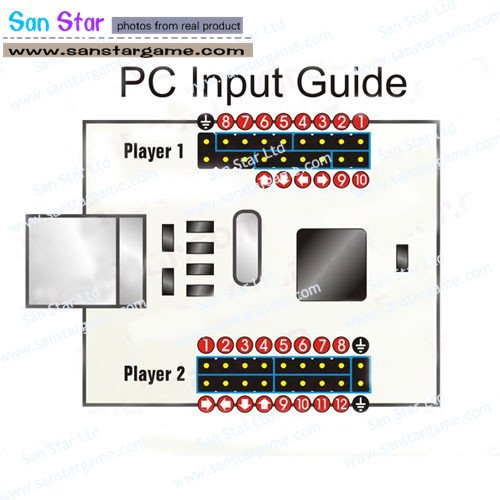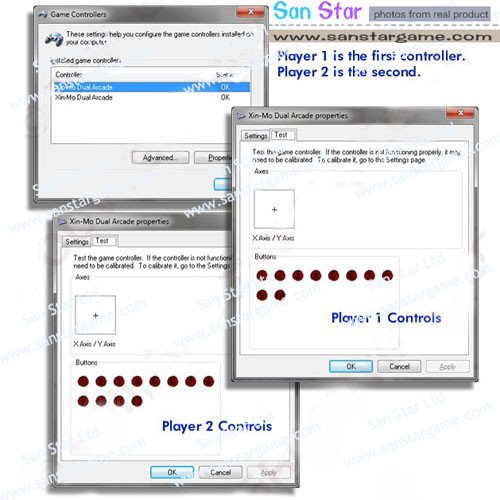 The Diagram of Joystick







The Diagram of Push Button








The Diagram of Player Push Button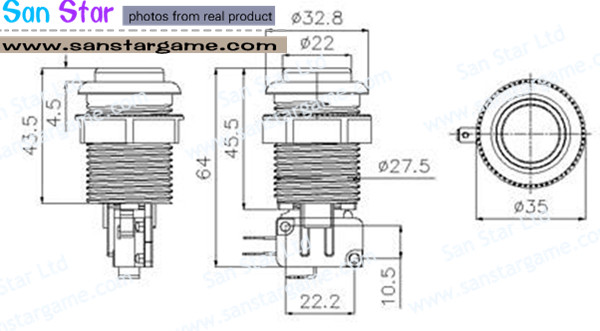 Note:
1.As every country have different policy for import tax, so our price is not include the import tax. Please check your local tax before buying. Brazil customer if goods sent by EMS but can not receive goods for long time after goods sent out, please contact your local post office.
2.Ship cost is base on your detail delivery address is not remote area. If your detail delivery address is a remote area then need to pay USD$30 remote area fee.
3.If you want to change shipping method or combine order, please confirm your order but not pay, and contact us to adjust.
We have many kind of arcade parts and arcade game pcb.You can build or replace your machine with convenience way.
Our product brand include: Sanwa,Seimistsu,Zippy,WeiYa and other local brand with good quality.
Our parts include:Joystick ,Push Button, Microswitch ,Speaker ,Cooler Fans ,Coin acceptor,Power supply,Cable Holder,Jamma Harness,PCB Feet,Track Ball,Cam Locks,Coin Door,Converter Board and so on.
Our game board include: 1057 In 1, 2100 In 1,2019 in 1,1940 In One,1078 In 1,1072 In 1,700 in 1,485 in 1,450 In 1,200 In 1,Neo Geo cassette SNK 161 in 1,151 In 1,138 In 1,120 In 1,111 In 1,100 In 1,48 In 1,45 In 1,38 In 1,32 In 1...
Game Family,Baby Star,Game Elf, Just Another Pandora's Box ,Happy Fish II-302 In 1,Happy Fish I-195 In 1,Blue Elf II-310 In 1,Blue Elf I-108 In 1,Classic 60 In 1.......
Our casino Game PCB include: Red Boad multi XXL ,7X,6X,Coolair, Gaminator ,16 in 1,9 in 1,7 in 1 and so on...
At this online shop.We just only accept Paypal.If you want to change to other payment methods please contact us via info@sanstargame.com regarding the order No.as well.Thanks.
If you want to place big order,please contact us at info@sanstargame.com directly.Or place the order,and confirm,but not pay,and send email to us regarding your order No.Then we will check for you,if can make discount then we will adjust in the order.Thanks for your time.
Please be aware that due to your computer monitor display the color may have some difference between the picture and the physical item

Please according to you to buy the dress fabric, select the corresponding fabric color chart